Upcoming Event
Super Billiards Expo
April 21-24 2022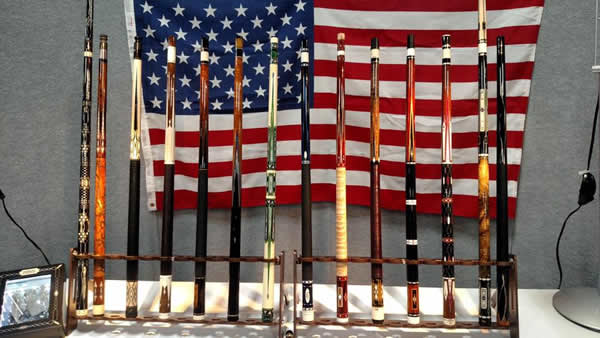 Once again the American Cuemakers Association will be exhibiting at the Allen Hopkins Super Billiards Expo at the Greater Philadelphia Expo Center in Oaks PA. This is an ideal place to see the best cues made by the best cuemakers in the world all in one place. There will be beautiful Diamond pool tables for you to try out ACA made cues. Stop by the ACA booth to vote on the People's Choice Cue of the year.
Members displaying will be, Barnhart Cues, Bludworth Ball Cleaner, Capone Custom Cues, Diamond Billiard Products, J Pechauer Custom Cues, Jacoby Custom Cues, Jerry Olivier Custom Cues, Joss Cues Ltd, Mike Stacey Custom Cues, Nitti Custom Cues, PFD Studios, Rounceville Woodworks, T & K Lathe Works, Treadway Custom Cues, and Whitten Custom Cue Cases.
The American Cuemakers Association
Welcome to the American Cuemaker's Association. The American Cuemaker's Association(ACA) was formed in 1992 to promote the American made cue as a unique collectable art form. We are composed of cuemakers, merchants in the billiards industry, and other supporters.
---
Mission Statement
It is the mission of the American Cuemakers Association to become the best organization worldwide for establishing a top flight standard of excellence

in cue making, recognized as the benchmark by which others are measured.

We will accomplish this by the following objectives:

1. To establish and recognize a standard of excellence in the art of cue making.
2. To educate the public on cues.
3. To promote the collecting of cues.
4. To cooperate with other organizations engaged in billiard promotions whose objectives
are compatible with the ACA.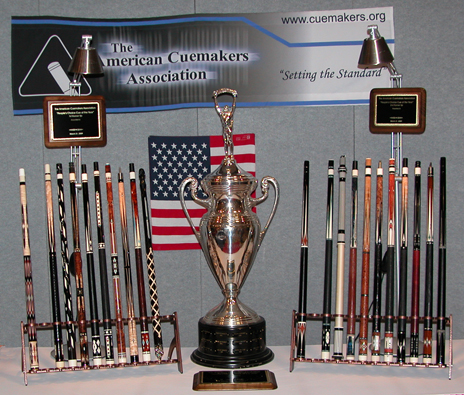 ACA cues on display for People's Choice Voting.
---
2013 AWARDS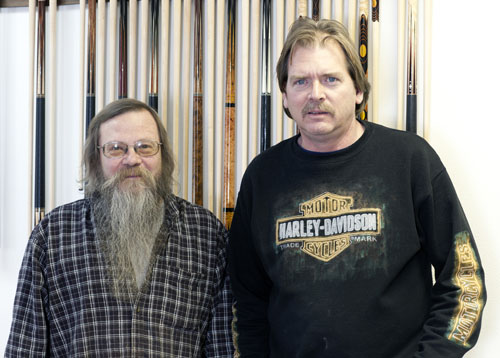 Congratulations to Samsara Cues this years American Cuemaker of the Year Award recipient. Jim Stadum (on right) and Dave Ducette from Samsara cues
---
Hall of Fame Poster For Sale
The ACA has a limited number of Hall of Fame posters for sale. This poster contains drawings of all of the members of the ACA Hall of Fame superimposed over one of their cues. Click the photo below for details.

---
Endorsements
The ACA is proud to announce that Simonis Cloth is now the official cloth of The American Cuemaker's Association. Simonis cloth joins Cue U, the College of Pool and Billiards and Diamond Tables as the only products currently endorsed by the ACA. Think about it....You buy a cue made by an ACA member (the best cuemakers in the world), then learn to use it properly at Cue U, then play on a Diamond table covered with Simonis cloth. It just doesn't get any better than that.
For more information, click on the Endorsements button at the top.
---